Chronicles of Erui – Song of a Falling Star OUT NOW!
A few years ago I thought being translated as an author needs a good book, good connections and good luck. Today I know: Only the first of them is true.
The only thing else you need is: PERSISTANCE.
If you believe in your work and you will stay true to it, you can achieve a lot by yourself, yet not on your own.
So today I can celebrate this persistance, that got my 'Song of a Falling Star' translated and out there. However, I know, it would have never been possible, without the help of friends and relatives, who supported me.
Thanks for all your critic in the first place, that made it become the book, that was able to reach enough readers so I could even think of, having it translated. Thanks to all my fellow authors and all the bloggers who helped me on the way from the very biginning.
All your tips, all your positive feedback all your kind words made me stay onto the path of this very special dream: To have this story available for a large audience all over the world.
An finally and mostly I thank my beloved husband. He is the one who believed in this prject almost more than I did. So thank you my dear.
You can find the ebook version right here, which is also available for kindleunlimited. 
And there is a paperback edition as well. 🙂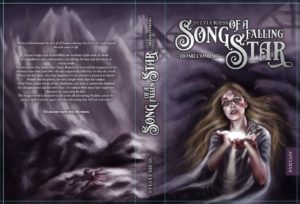 I hope, lots of you will find my epic fantasy Saga and enjoy the journey through the world beyond the veils.
Love,
Sylvia